2021-22 Season
Secret Life of Humans, by David Byrne
11 – 16 October 2021
In 1949, scientist and mathematician Dr Jacob Bronowski installs a hidden, locked room in his house. Fifty years later, his grandchild Jamie discovers the secrets contained in that room, unearthing echoes from across six million years of human history. Alongside research scientist Ava, Jamie uncovers revelations from the past, and as dawn approaches both are left wondering, do we really know where we came from? Is academic progress always a good thing? And are we moving forwards or stumbling backwards as a species? This engaging and thoughtful play looks at humanity's story afresh, and wonders if our greatest strength is really our shared imagination.
---
Radiant Vermin, by Philip Ridley
5 – 20 November 2021
When a young couple is offered an ideal house by a mysterious stranger, it prompts the question: How far would any of us go to get our dream home?
A fast-paced, pitch-black comedy, Radiant Vermin is a provocative satire about the housing market, homelessness, and inequality.
---
Babe, The Sheep-Pig, by David Wood
8 – 11 December 2021
When Babe is won by Farmer Hogget at the village fair an extraordinary friendship develops, one that will change the whole farm. With the help of his new "mother", the old dog Fly, Babe fast learns the herding instinct, and it's not long before this most polite of pigs wins over the most suspicious of sheep.
When the day of the Grand Challenge Sheep-Dog Trials dawns, the whole farm holds its breath to see whether Babe will triumph, against all odds, to become the hero of the hour.
This joint Youth/Adult show is the tale of high adventure in the farmyard that became a hit movie. Based on the novel by Dick King-Smith.
---
Dark Sublime, by Michael Dennis
17 – 22 January 2022
Former sci-fi icon Marianne doesn't know what to expect when Oli comes knocking on her front door. He turns out to be a die-hard fan of her old TV show who's come looking for her autograph. As the two learn more about each other, they soon find that their worlds are not as distant as they first seemed. As Oli pushes her back into the past and a strange, outrageous world she hasn't visited in almost 40 years, Marianne must find her own way into the future – and together they begin to discover what every good relationship needs: time and space.
---
THE 15TH ANNUAL WRITEFEST
16–19 February 2022
An evening of six short plays:
A3 by Neil Jarvis
DEATH BY MISADVENTURE by Liz Carroll
FACTORY CHILDREN by Matthew Beswick
THE FISHERMAN AND HIS WIFE by Steph Gunner-Lucas
A SHOT AT LIFE by Neil Jarvis
A THOUSAND WORDS by Adrian Tang
---
YOUS TWO by Georgia Christou
28 March – 2 April 2022
Fifteen-year-old Billie has lived with her dad in their little flat for as long as she can remember, but all that's about to change. She's got big plans – get Dad a job, sort out her grades, and live in a house with five bathrooms. But one reckless night threatens to undo all her hard work and derail her ambitions… When it's always been the two of you, how easy is it to get out, or to let anyone else in? What happens when those you should depend on, need you more than you need them.
---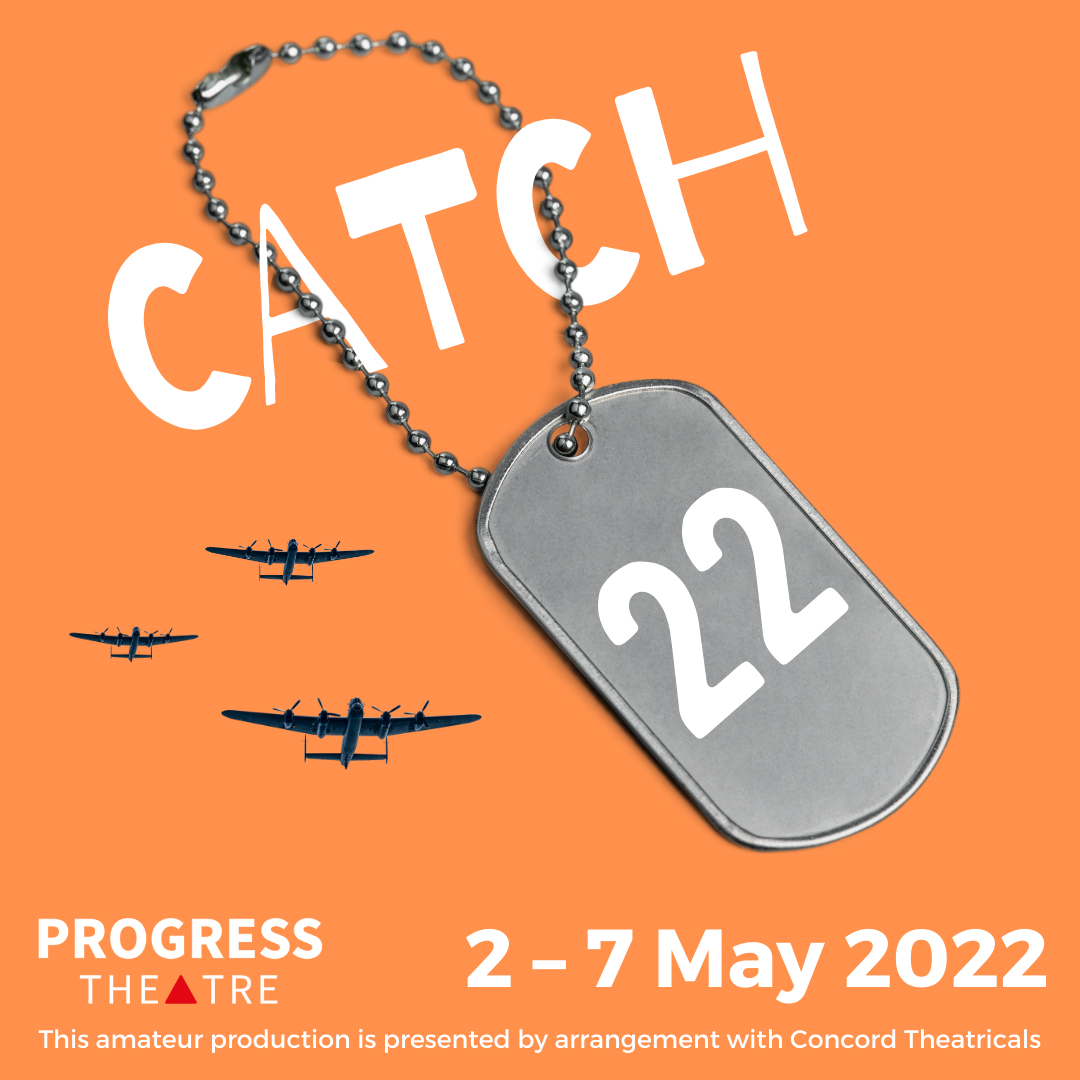 CATCH-22 by Joseph Heller
2 – 7 May 2022
The pacing of Catch-22 is frenetic, its tenor intellectual, and its humour largely absurd, though interspersed with moments of grisly realism. The absurdity of war and military life are examined through the experiences of Captain John Yossarian and his cohorts, who attempt to maintain their sanity while fulfilling their service requirements so that they may return home. Most events occur while the airmen of the Fighting 256th (or "two to the fighting eighth power") Squadron are based on the island of Pianosa, west of Italy.
---
Angels in America – Parts I & II by Tony Kushner
20 June – 2 July 2022
In mid-1980s New York, AIDS spreads unabated and Reagan's America is unwilling to help. Two couples' lives intertwine through physical relationships and metaphysical encounters. Prior and Louis' relationship comes under strain when Prior is diagnosed with AIDS and both struggle to cope with the harsh reality of the disease. Harper and Joe are unhappily married Mormons. Harper hides from her pain with Valium; Joe with long walks at night. A secret prevents them from being able to communicate. Angels in America interrogates sexuality, religion, race, and politics at the end of the last millennium in one of the most lauded plays of all time.
---
GREAT EXPECTATIONS - by Charles Dickens
20-30 July 2022 in the Open Air at Reading Abbey Ruins
Charles Dickens' celebrated epic novel comes to life in this new adaptation. Reading Abbey Ruins is the perfect backdrop for one of the greatest British novels ever written. Join Pip, Magwitch and Miss Havisham on a beautiful summer evening in this picturesque setting.