Partikel with Ant Law: The Counteraction Tour
Friday 5 May 2017 at 7.30pm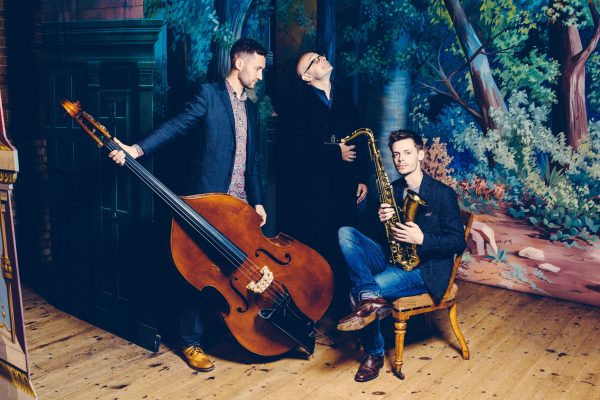 Max Luther bass
Eric Ford drums
Duncan Eagles sax
Ant Law guitar
Jazz in Reading is very pleased to have Partikel as guests on the 5th May. The band has always been an acoustic trio in a chordless setting with an intimate, rhythm driven signature and released their first album Partikel in their post bop style, in 2010: followed by Cohesion in 2011. Both albums were very well received and announced a trio that would stand the test of time. Their reputation internationally was recently recognised when Eagles and Luther served a three month residency with British drummer Ollie Howell at Quincy Jones' first jazz club called Q's in Dubai. So, what is good for the great man is good enough for us.
The trio has toured extensively in China and Europe, especially Germany. Fortunately they find time to gig in the UK and enjoyed an exuberantly received set, based on the new album sounds, from a packed venue at last year's Love Supreme festival.
The trio are not the type to stand still and their last album in 2015 String Theory, surprisingly enough with a string quartet, has led them further into enhancing the basic trio sound by utilising electronic effects. In creating the new album Counteraction, and in live performance, the ambition is to enhance the acoustic palette, not have the sound dominated by full-on electronica. The compositions, mostly by Eagles, explore fascinating textural avenues, balancing and integrating them with the band's original sax, bass and drums identity to create often strikingly unusual resonance.
On the album, the trio is enhanced with several musicians, the acclaimed guitarist Ant Law being one of them and he joins them for this performance. Ant has swiftly climbed the ranks of in demand UK guitarists and is a band member on Tim Garland's 2016 album One that was top of Jazzwise magazine's critics' choice for last year. Having experienced that band at Swanage in 2016, we strongly recommend catching Ant with Partikel and expect an exciting evening of stimulating music.
In a review in Jazzwise of Counteraction, critic Selwyn Harris writes, "The trio's fourth album extends the sonic palette further, filling out the soundscape, but retaining their more intimate, rhythm driven sax-bass-drums signature. Partikel are telling new stories bursting with invention"
Photo: Partikel at Normansfield Theatre, Teddington by Rob Blackham / www.blackhamimages.com
Jazz at Progress is presented in association with Jazz in Reading.