2023-24 Season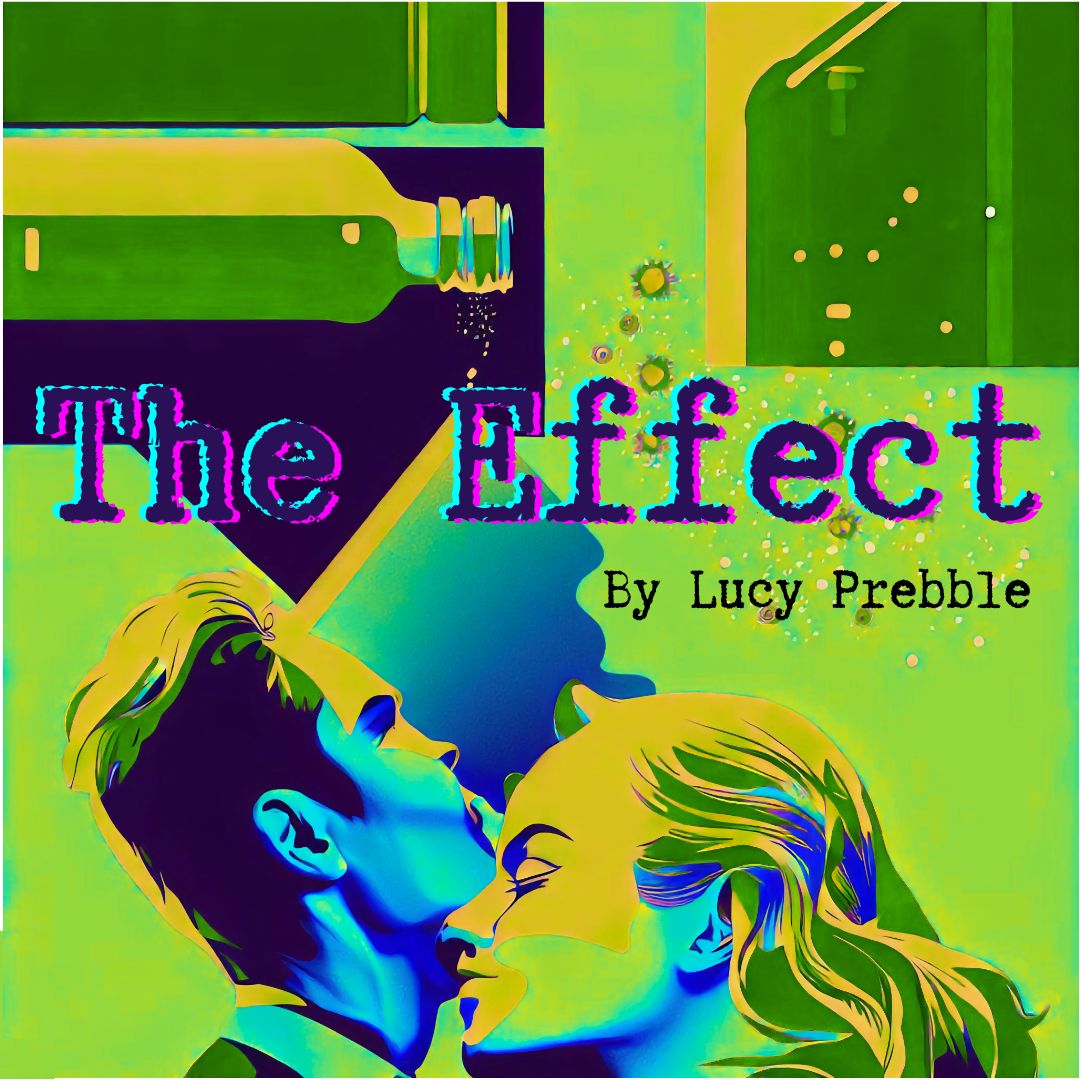 THE EFFECT by Lucy Prebble
4-9 Sept 2023
What is love? What is depression?
Tristan and Connie agree to take part in a clinical trial for an anti-depressant drug, but when they fall in love, they throw the trial off-course as a consequence. The clinical leads, Dr James and Toby, are left to ponder the ethics of continuing with the experiment, whilst Connie and Tristan are left wondering if their feelings are real or just an extreme side effect.
A sharp exploration of the clash between scientific advance and human impulse.
The Effect opened at The National in 2012 with Prebble's close friend, Billie Piper, as Connie.
---
17th ANNUAL WRITEFEST
27-30 September 2023
Six new short plays make up one varied evening of entertainment. A chef makes a dubious pie, a debt is settled, and there's an encounter - in verse - at a much-starred restaurant. There are war games, a conversation with a malignant lump, and strange goings-on in the execution chamber. Tears, tension, love and laughter - it's all here at WriteFest.
---
Progress Youth Theatre presents
BLOOD WEDDING by Federico Garcia Lorca
1-4 November 2023
As two families make preparations for a wedding, dark omens haunt all of those involved. The passions of the young are frustrated by the limits of wealth and tradition. Family feuds are reawakened, and grief and bitterness are passed down the generations.
Then the threads of fate are drawn together, and the natural world itself conspires to witness the tragedy unfold.
Lorca's timeless 'Blood Wedding' is a folk tragedy in three short acts that blends symbolism and surrealism to stunning effect.
---
HOGFATHER by Terry Pratchett
7-16 December 2023
It's the night before Hogswatch, usually a time of joy, but it's too quiet. Where is the big fat jolly Hogfather? And why is Death creeping down chimneys and trying to say 'HO, HO, HO'?
With suspicious goings-on in the criminal underworld and Discworld's entire mythical system under threat, Susan the gothic governess has to sort it all out before morning, otherwise there might not be another morning ever again.
A hugely entertaining festive treat for newcomers to Terry Pratchett's Discworld as well as a delight for existing fans. Suitable for ages 8-108.
---
ALBION by Mike Bartlett
29 January - 3 February 2024
A retelling of Chekhov's The Cherry Orchard for current times, set in the previously grand gardens of a large English country estate. This is the backdrop for and focus of the lives one family across several seasons.
Matriarch Audrey plans to return the gardens to their former glory, finding her passion and distract herself from the death of her son, a soldier. She's dragged her overly laidback husband and London-raised, writer-aspiring daughter Zara with her. Her son's grieving girlfriend of only three months has also tagged along as they decide what to do with his ashes, and she wears her grief like a mantle.
They clash about what to do with his ashes, the hiring of help and what the gardens should be used for, with locals from the village bringing their own agenda.
The garden changes, the rains come and people and places have to adapt or break.
Following a sell-out run in 2017, The Telegraph's "Play of the Year" returned to the Almeida for just 31 performances in 2020 before COVID hit.
---
THE LAST QUIZ NIGHT ON EARTH by Alison Carr
11-16 March 2024
It's the end of the world. The last night on Earth. An asteroid is heading straight for us and there's nothing we can do about it... Except for maybe hosting a pub quiz – which is exactly what landlady Kathy and her quizmaster Rav are doing at The Four Horsemen pub. As you enter our pub, you can take part in a fully interactive quiz as we wait for the end of the world. Rav has pulled out all the stops (including a sparkly jacket) to make this the best night of pre-apocalyptic entertainment anyone could ask for.
Audience members can team up with other groups if they want to. We encourage people to book as groups: get your team together for the end-of-the-world quiz!
---
UNDER MILK WOOD by Dylan Thomas
26 April - 4 May 2024
In Under Milk Wood, we meet a host of larger-than-life characters, some mournful, some comic, from a fictitious Welsh town Llareggub (spell it backwards). We see into their day and night dreams and secret desires.
Two voices narrate a night and a day in the life of these colourful characters, in the unique and memorable poetry of Dylan Thomas.
---
PROGRESS PREMIERES
12-15 June 2024
Two new plays in a double bill.
MOLES by Sarah Wright
Set in a London Underground bunker, Moles is a drama about the staff who supervise the railways during the Second World War. A new member of staff arrives, but as the action develops we learn that the station has a mole, but who can it be?
DIRT by Caroline White
A family of gravediggers encounter an extra corpse. The daughter seems to know who the new body is, but she's acting cagily about it. Meanwhile, the brothers are concerned about rivals and the father has an eye on protecting the family business both from meddling governments and increased competition.
---
THE IMPORTANCE OF BEING EARNEST by Oscar Wilde
17-27 July in the open air at Reading Abbey Ruins
The Importance of Being Earnest is the most renowned of Oscar Wilde's comedies. It's the story of two bachelors, John 'Jack' Worthing and Algernon 'Algy' Moncrieff, who create alter egos named Ernest to escape their tiresome lives. They attempt to win the hearts of two women who, conveniently, claim to only love men called Ernest. The pair struggle to keep up with their own stories and become tangled in a tale of deception, disguise and misadventure. The elaborate plot ridicules Victorian sensibilities with some of the best-loved characters on the modern stage.
See this timeless classic in the shadow of Reading Gaol, where Oscar Wilde was himself imprisoned.