The Long and the Short and the Tall
by Willis Hall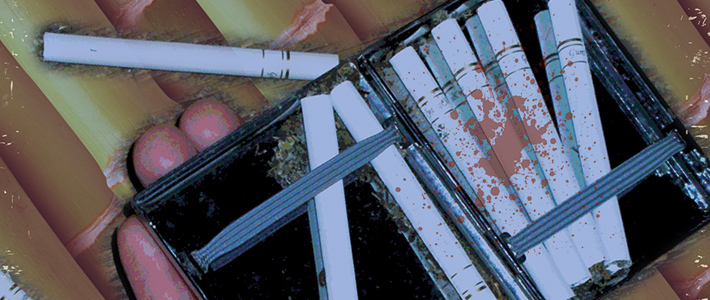 Monday 12 September – Saturday 17 September 2016, performances at 7.45pm
Also Saturday 17 September 2016 performance at 2.30pm.
Doors open 30 minutes earlier.
In British Malaya during the Japanese advance on Singapore, a patrol of British Army soldiers are holed up in an abandoned store hut in the jungle. Tension rises after their radio malfunctions and an unwelcome visitor stumbles upon them. A gripping character-driven drama, laced with pathos, The Long and The Short and The Tall portrays how war can affect man's attitude to others, as they show kindness and cruelty in equal measure.
More about the show: Bless 'em all...
What they say:
"...fantastically atmospheric... a brilliant piece of staging..."

"Jungle helmets off to Adrian Tang who, as the prisoner, makes barely a sound for the whole two hours yet still conveys a range of emotions, from terror to boredom and despair."

"Better not give the ending away and all that, but suffice it to say it's a chiller."
and
"Set designers Tony Travis and Matt Tully (the latter also doubles as director), have created a brilliant piece of staging with the entire space take up by the inside of the wooden-panelled hut – complete with cobwebs, cargo boxes and strong lighting which makes it feel dense and hot, as it should."

"The tension and pace of the piece is superb – the crackling radio is used to particularly great effect – and director Tully gradually builds the fear of what lies beyond the hut, but also what the men find themselves confronted with inside."
Cast
Sergeant 'Mitch"' Mitchem ..... Peter Cook
Corporal 'Johnno' Johnstone ..... Craig Daniels
Lance-Corporal 'Mac' Macleish ..... Dylan Yates
Private 'Bammo' Bamforth ..... Kevin Copping
Private 'Taff' Evans ..... Brett Davies
Private 'Smudger' Smith ..... Daniel Brown
Private Samuel 'Sammy' Whitaker ..... Josh Boden
Prisoner ..... Adrian Tang
Crew
Director ..... Matt Tully
Assistant Director ..... Adrian Tang
Producer ..... Tony Wernham
Stage Manager ..... Caroline Sketchley
Set ..... Tony Travis
Lighting ..... Jon Churchill
Musical Director and Sound ..... Stuart McCubbin
Additional Music ..... Bethan Perkins and the cast
This amateur production of The Long and the Short and the Tall is presented by special arrangement with Samuel French Ltd