Accidental Death of an Anarchist
by Dario Fo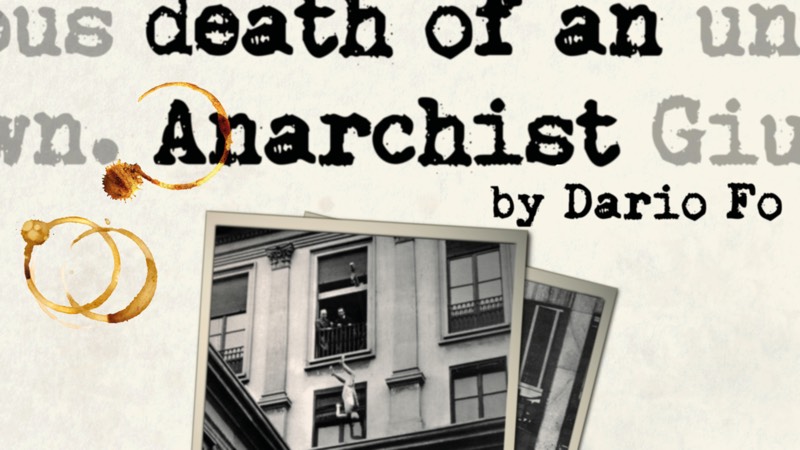 Monday 20 – Saturday 25 February, performances at 7.45pm
Doors open 7.15pm
Dario Fo's classic farce sees a character known only as The Maniac hoodwink senior police in a series of increasingly bizarre impersonations. Absurdity escalates as the fast-talking con man uncovers the true story of a political suspect, who fell to his death on the street below. Despite this dark premise - it's based loosely on true events - there are plenty of laughs.
Cast
Inspector Bertozzo – Martin Walker
The Maniac – John Gonzalez
Constable – Daniel Brown
Inspector Pissani – Peter Cook
Superintendent – Mikhail Franklin
Maria Feletti – Débora Rochfort
Director – Eva Marchetti
See Eva's introduction to the play
Review from AltReading: "...beautifully staged by the ever-professionally minded Progress"
Review from The Whitley Pump: "...the dilemma played out in the final moments of the drama will captivate you"
Review from Ciara Roddy "...fun, clever and exciting from start to finish"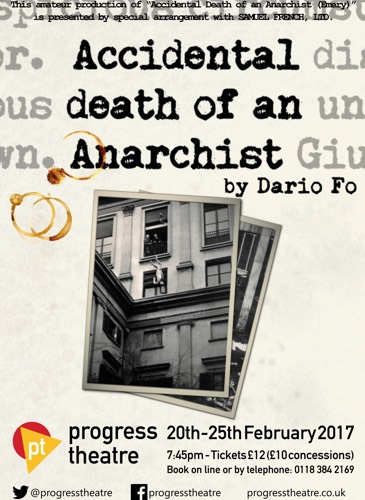 This amateur production of Accidental Death of an Anarchist is by special arrangement with Samuel French Ltd