We are proud to announce our season of plays for 2019-20!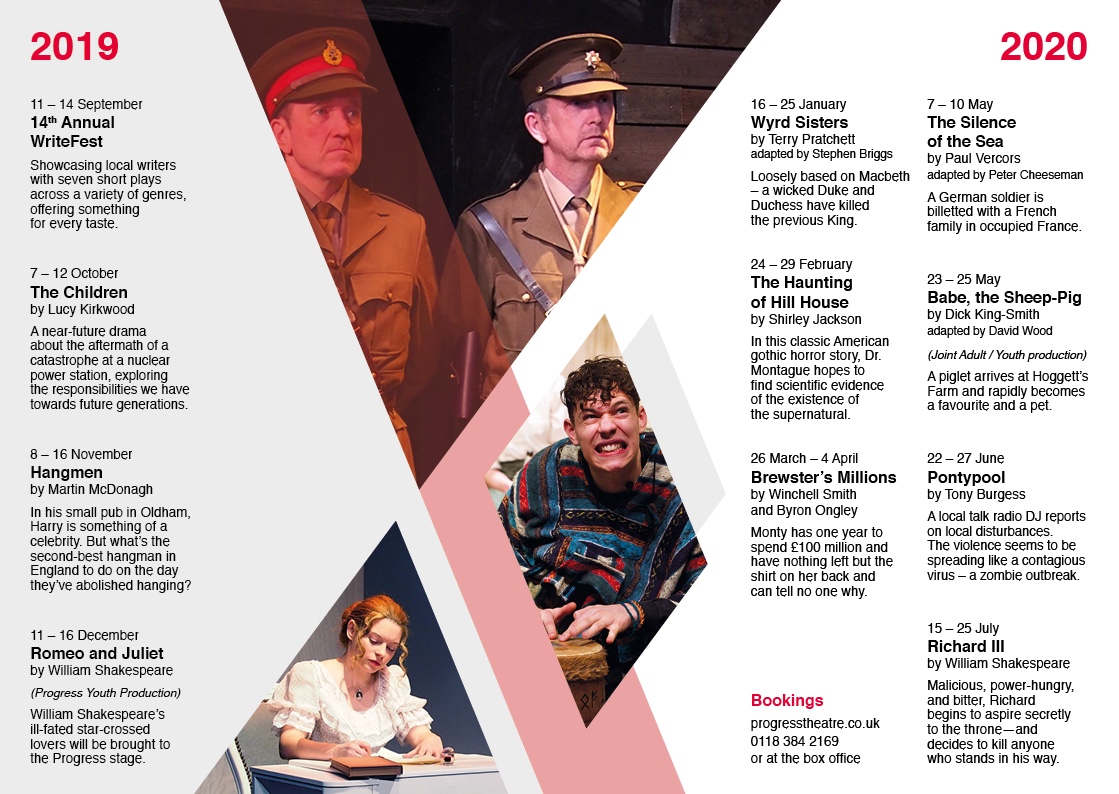 2019
The 14th Annual WriteFest
Wednesday 11 – Saturday 14 September (with Saturday matinee)
Our annual evening of new writing returns to the Progress stage for the 14th year. Showcasing seven short plays by local writers, across a variety of genres, WriteFest offers something for every taste.
From a patient in a mysterious hospital, with no memory of why she is there .. to a pretentious man who discovers that Mrs Grim has a lot to say. From a heart-rendering daughter / mother story ... to a couple of bickering costume workers with a secret.
And much, much more!
Tickets via: https://www.ticketsource.co.uk/progresstheatre/14th-annual-writefest/e-vyxzdd
The Children by Lucy Kirkwood
Monday 7 – Saturday 12 October
The Children is a near-future drama about the aftermath of a catastrophe at a nuclear power station, exploring the responsibilities we have towards future generations. Hazel and Robin, two retired nuclear scientists are living in the wake of a disaster at the local power station where they used to work. But when Rose suddenly turns up after 38 years, their precariously ordered existence is disrupted, and they are forced to consider the impact of their lives on the next generation.
Tickets via: https://www.ticketsource.co.uk/progresstheatre/e-gqlgpz
Hangmen by Martin McDonagh
Friday 8 – Saturday 16 November
In his small pub in Oldham, Harry is something of a celebrity. But what's the second-best hangman in England to do on the day they've abolished hanging? Among the cub reporters and sycophantic pub regulars dying to hear Harry's reaction to the news, a peculiar stranger lurks, with a very different motive for his visit... A brilliant black comedy set in 60's Lancashire – Hangmen is fast-paced, side- splittingly funny and with a gripping tension that is relentless until the end.
Tickets via: https://www.ticketsource.co.uk/progresstheatre/hangmen/e-qorpmj
Romeo & Juliet by William Shakespeare
Wednesday 11 – Saturday 14 December
Progress Youth Theatre brings William Shakespeare's ill-fated star-crossed lovers to the Progress Stage.
Tickets via: https://www.ticketsource.co.uk/whats-on/reading/progress-theatre/romeo-and-juliet/e-lvjgor
2020

Wyrd Sisters by Terry Pratchett, adapted by Stephen Briggs
Thursday 16 – Saturday 25 January (matinees on both Saturdays)
Loosely based on Macbeth – a wicked Duke and Duchess have killed the previous King. Characters include a fool, the King's ghost, dim soldiers, and strolling players. And the three witches who stand between the Kingdom and destruction.
The Haunting of Hill House by Shirley Jackson
Monday 24 – Saturday 29 February
In this classic American gothic horror story, Dr. Montague hopes to find scientific evidence of the existence of the supernatural. He rents Hill House for a summer and invites people whom he has chosen because of their experiences with paranormal events. Of these, only Eleanor and Theodora accept. They will live in isolation with Montague and his assistant (and heir to Hill House) Luke. Meanwhile, a housekeeper tries to warn them of the horrors within, and Dr. Montague's wife and her assistant turn up with their more traditional approach to spiritualism.
Brewster's Millions by Winchell Smith and Byron Ongley
Thursday 26 March – Saturday 4 April
Monty Brewster has a problem: she's just inherited £700 million. There is, of course, a catch - she needs to spend all the £100 million she had already inherited before she can get the £700 million! And she only has a year to do it. Easy? Not for Monty. She can't have a penny left at the end of the year and she can't own a thing from it.
The challenge: Spend £100 million with nothing to show from it but the shirt on your back, and tell no one what you are doing. Oh, and you can't just give it away!
This fast-paced, frantic comedy classic is brought into the 21st century, retaining all the charm of the original, as Monty tries to spend it all in secret, whilst her friends all try to save her from herself.
The Silence of the Sea by Paul Vercors, adapted by Peter Cheeseman
Thursday 7 – Sunday 10 May (inc Saturday matinee, matinee performance only on Sunday)
Occupied France. A German soldier is billetted with a French family, a middle-aged man and his young niece. The German soldier is a great lover of France and French culture and believes in the cause. The French family show their opposition to him by refusing to speak to him. They are the "silence" of the title. The soldier then goes to Paris, where he sees the reality of the Nazi occupation. He returns to them, disillusioned and distraught.
Babe, the Sheep-Pig by Dick King-Smith, adapted by David Wood
Saturday 23 – Monday 25 May (matinees and evening performances on each day)
Joint Adult/Youth production. Dick King-Smith's classic children's tale, adapted for the stage. Babe arrives at Hoggett's Farm and rapidly becomes a favourite and a pet, as he prevents sheep stealing on the farm. He then learns how to herd sheep and becomes famous for doing so.
Pontypool by Tony Burgess
Monday 22 – Saturday 27 June
Set in Ontario, Canada a local talk radio DJ reports on local disturbances, violence and spreading riots in the area. With most of his information coming only from listeners calling into the show he tries to piece together the events that are happening on the streets outside. It slowly becomes clear to him and his producer that the violence seems to be spreading like a contagious virus – a zombie outbreak. But rather than an infection of the blood, this virus seems to be transmitted by words and it might be that by encouraging his listeners to stay tuned to the radio he is, in fact, hastening the spread of the virus. And by taking calls from the outside, he may have already allowed the infection in.
Richard III by William Shakespeare
Open Air production at Reading Abbey
Wednesday 15 – Saturday 25 July
After a long civil war between the royal family of York and the royal family of Lancaster, England enjoys a period of peace under King Edward IV and the victorious Yorks. But Edward's younger brother, Richard, resents Edward's power and the happiness of those around him. Malicious, power- hungry, and bitter, Richard begins to aspire secretly to the throne—and decides to kill anyone he has to in order to become king.