♫ Orphy Robinson Quintet: Bobby Hutcherson Project
Fri 2 March 2018 at 7.30pm
CANCELLED
Due to adverse weather.
Orphy Robinson vibes and marimba
Robert Mitchell keys
Tony Kofi sax
Dudley Phillips bass
Moses Boyd drums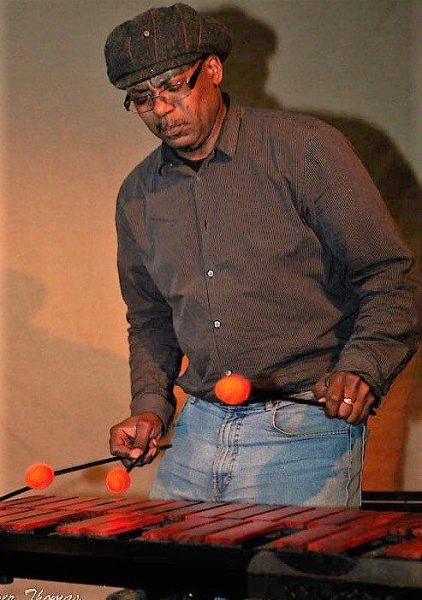 The renowned USA vibes player Bobby Hutcherson died aged 65 in August 2016 having had a glittering career from the late 1950s. He played with the Who's Who of jazz icons, recording on Blue Note from 1963 to 1977. Bobby ran the gambit from bebop, via post bop to contemporary and free jazz.
In September 2016 Orphy Robinson assembled an octet to pay homage to Bobby Hutcherson, a performance voted by the public the "Live Experience Of The Year" at the April 2017 Jazz Fm Awards.
We are very pleased to provide this repeat opportunity for Bobby's original compositions and work to be celebrated. We delight in having a quintet from the same gifted players who will play Bobby's compositions, arranged by Orphy Robinson.
Orphy Robinson, a former Jazz Warriors member, signed by Blue Note and making five albums as leader on the iconic label in the 1990s, has continued to make waves and help turn the tide of jazz in the UK from continual reproduction of standards to contemporary compositions distinctly UK and World Music in nature. He has composed for film, TV, stage and the Proms. His work in music education is renowned. Somehow he finds time to perform and work with artists from a wide range of musical genres, from Robert Plant through to Nigel Kennedy, Andy Shephard and any and everyone on the UK jazz scene.
Tony Kofi, a contemporary of Orphy's in the Jazz Warriors and last seen with the Monk Jump Band at Progress a few months ago, is undoubtedly one of the UK's most popular players who spans the styles from bebop to free jazz. As a younger man he had a four years scholarship at Berklee, Boston USA, where he gained his diploma and also much experience from the USA scene. Tony plays with passion and sensitivity, never failing to create an emotive response from an audience.
Robert Mitchell also spent a number of years statesside in the Big Apple, earning his spurs after completing his BSc degree in London. Also serving time in the Warriors, Robert has a wide musical influence and having studied piano from the age of six, uses that depth of knowledge to produce music influenced by classical piano heritage, jazz, world music, soul, R&B and beyond.
Robert has made a number of albums as leader and also in a solo setting. It is a pleasure to be able to introduce him to our Progress audience.
Dudley Phillips is like so many bass players, an unsung hero. However, he co-created the Perfect Houseplants in 1992 with Mark Lockheart, Huw Warren and Martin France on drums who appears later for us with Chris Laurence. No doubt some in our audience will have at least one of the band's albums from the 1990s.
Moses Boyd is going to be a newcomer for many of us, but look at this; "Moses Boyd graduated with a BMus (Hons) Jazz Drums in 2016. Throughout his time at Trinity Laban he worked in a professional capacity as one half of the duo Binker and Moses, with his ensemble The Exodus and on his own as Solo Exodus and released music under his own label Exodus Records. He has collaborated with Lonnie Liston Smith, Ed Motta, Little Simz, Four Tet, Floating Points, Zara McFarlane, Gilles Peterson, Soweto Kinch and many more. Awards he has received include The John Peel Play more Jazz Award from the 2016, Gilles Peterson Worldwide Awards, Parliamentary Jazz award for Jazz Newcomer of the Year 2016, a MOBO award for best jazz act 2015, two Jazz FM awards and the Worshipful Company of Musicians' Young Jazz Musician award in 2014. Moses has released two albums with his band Moses Boyd Exodus and debut album 'Dem Ones' with Binker and Moses". Obviously a young man from Catford who is going places – well, more places!
Tickets will be automatically refunded - there is no need to call
Jazz at Progress is presented in association with Jazz in Reading.