♫ Ray Gelato & Alex Garnet "Tough Tenors" Quintet
Buy tickets
Adult: £18, Concessions: £16 + booking fee
or call 0118 384 2169
Telephone sales will cost an additional £1.50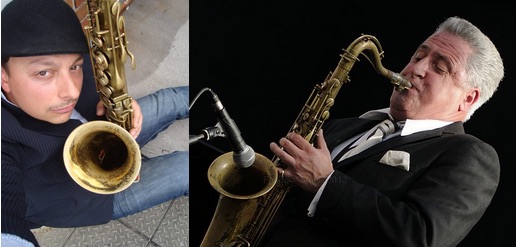 Friday 27 October at 7.30pm
Ray Gelato tenor sax
Alex Garnett tenor sax
Gunther Kurmayr piano
Manuel Alvarez bass
Matt Home drums
Ray Gelato is best known as the leader of "Ray Gelato Giants" a band which regularly plays to full houses around the world and which has been a favourite at the world-famous Ronnie Scott's Jazz Club in London, including holding down a 14 year residency over the Christmas period.
"Not for nothing is Gelato known as The Godfather of Swing, a sheer delight" – Daily Telegraph
"He plays what he means and he means what he plays"- Jools Holland
Ray Gelato and Alex Garnett rekindle their musical partnership after 20 years! Influenced by some great tenor sax partnerships such as Eddie Lockjaw Davis, Johnny Griffin, Gene Ammons and Sonny Stitt, Ray and Alex present two contrasting styles of tenor saxophone playing.
Garnett is bluesy, progressive and bop influenced, with a highly personal style that mixes great technique with soulful harmonic and melody lines. Meanwhile Gelato takes the swing heroes such as Illinois Jacquet and Don Byas as his role models, using a big warm sound and melodic phrases in order to build excitement in his solos.
The contrast between these players makes the repertoire exhilarating and absorbing and both have the ability to tell a story in their brilliant solos.
Ray and Alex are supported by a great rhythm section, two of whom are also permanent members of "Ray Gelato Giants" band. These are Gunther Kurmayr on piano and Manuel Alvarez on double bass. The trio is completed by Matt Home on drums who regularly plays with many of the leading musicians in London, the UK and Europe and who also appears regularly at Ronnie Scott's as part of the house band.
Jazz at Progress is presented in association with Jazz in Reading.