Maskerade
By Terry Pratchett. Adapted by Stephen Briggs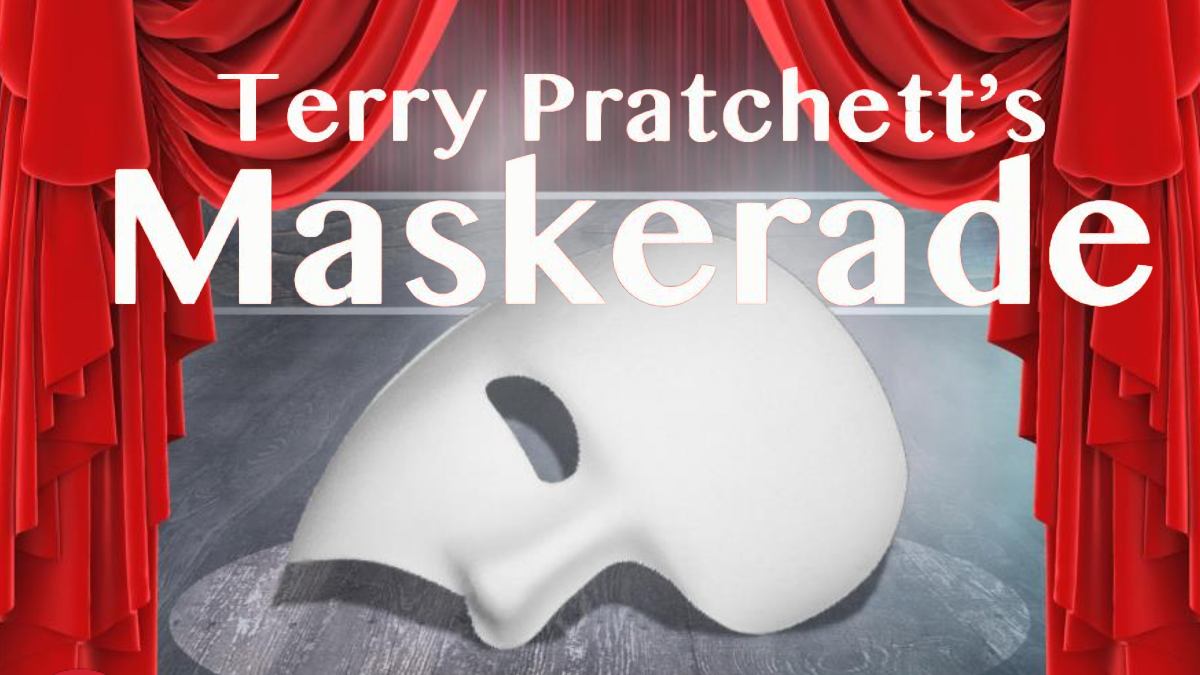 18-27 January 2018, performances at 7.45pm
with matinées at 2.30pm on 20 and 27 January.
Doors open 30 minutes earlier.
All is not well in the Ankh-Morpork Opera House. A ghost stalks the dark corridors, leaving strange letters for the management and ... killing people. Granny Weatherwax and Nanny Ogg, two Lancre witches, investigate, and are soon involved in all kinds of skulduggery, mayhem and ear-splittingly loud singing. Quirky and original characters, a labyrinthine plot and numerous witty one-liners make this a treat for Discworld fans and Pratchett newbies alike.
Cast
Granny Weatherwax - Melanie Sherwood
Nanny Ogg - Liz Carroll
Agnes Nitt/Perdita - Lily Killaspy
Walter Plinge - Dean Stephenson
Mr Salzella - Trevor Dale
Christine - Rebecca Douglas
Seldom Bucket - Ben May
Dr Underschaft/Greebo/Thief - Dan Bignell
Senore Basilica/Mr Arno - Ali Carroll
Mrs Plinge - Linda Bostock
Mr Goatberger/Death of Rats/Woman with chocolates - Elizabeth Koenigshofer
Mr Pounder/Sgt Detritus/Bernard/Thief - Joe Morbey
Manager to Snr Basilica/Cpl Nobbs/Hron/Thief -Taylor Rupp
Andre/Thief/Man with deathwish - Matt Urwin
Colette/Thief - Alice Youngs
Solange/Thief - Maddie Udale-Clarke
Giselle - Flora Paulo
Kevin/Man with glasses - Simon White
Directed by Christine Moran
Reviews
Henley Standard - "The passion of the opera combines with a bundle of laughs in a very enjoyable comic romp that works up to a swashbuckling finale"
GetReading - "It was easy to forget that just 18 actors were playing almost double that with 35 characters needed to complete the cast, as the role changed so did my impression of who was under the costume."
The Whitley Pump - "Chris Moran's production fizzes with delicious lunacy – opera has never been such fun!"
Discworld Monthly - "As for performance, it was outstanding. Melanie Sherwood delivers an exceptional Granny Weatherwax and Liz Carroll's Nanny Ogg was everything I've always imagined the character to be as I was reading the novels."
This amateur production of "Maskerade" is presented by special arrangement with SAMUEL FRENCH, LTD.