One Million Tiny Plays About Reading
Joint Adult and Youth Theatre Production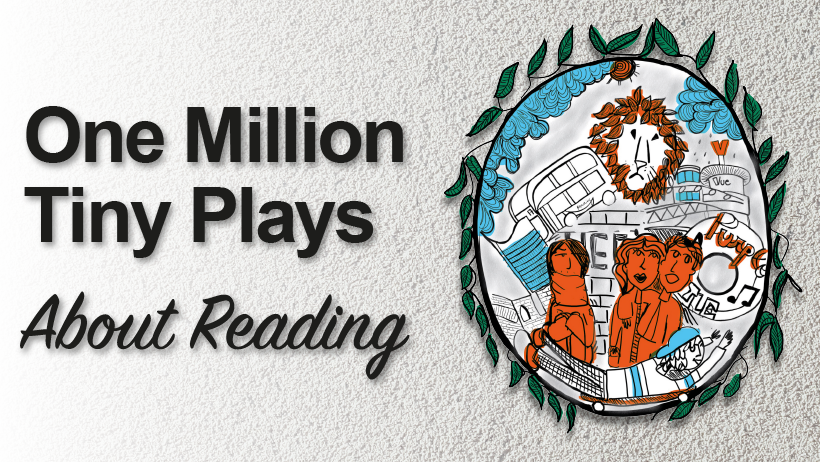 1 -6 April 2019, performances at 7.45pm
Conversations about the lion in Forbury Gardens; two divers take their last leap at Central Swimming Pool; a conscientious MP visits a food bank in Tilehurst and, after drowning his sorrows at the Jazz Bar, a Reading FC misses the bus home.
Inspired by Craig Taylor's brilliant state-of-the-nation play, One Million Tiny Plays About Britain, this new devised work showcases and celebrates the people of bustling, hotchpotch Reading in a series of well-crafted snapshots, designed to delight, provoke and amuse.
Note from the writer: Jack Taylor
"One million plays is a lot. We didn't manage that many. Instead, we hope the play captures one million aspects, attitudes and images of Reading. Most of the scenes emerged from the collective memory and imagination of the cast. They devised some brilliant moments and developed them into complex, poignant pieces of theatre. As the writer, I had an easy job.
We wanted to enrich the play with a very clear sense of place, not just of Reading, but the landmarks and institutions that fill it. For many, Reading is characterised by its physical imagery – the Forbury Lion, the Royal Berks, Smelly Alley, Central Swimming Pool. We tried to populate these locations with life and motion and to stage the dramas and conversations which they inspire."
Reviews
"Everybody who knows Reading would enjoy this play... It is a warm-hearted and forgiving love-letter to a busy and often chaotic modern town... acted out with a lot of fun by a dizzying ensemble cast from the theatre's youth and adult teams."
~ The Whitley Pump
"I loved so many of the vignettes such as the clumsy marriage proposal on the Oracle Beach; a cynical visit to a food bank by a publicity-hungry MP; a lazy boy's work experience in a charity shop and ladies who lunch disapproving of Reading Festival fans."
~ The Henley Standard
"Some of the scenes are especially charming, and capture the odd and titled spirit of this town. Two women picnic in the cemetery at Cemetery Junction, enjoying the company of the tombstones and sharing cake with the departed. "
~ The Play's the Thing
Ensemble
Layla Al-Sadie
Ali Carroll
Dylan Collie
Juliet England
Melissa Evans-Prosser
Cora Jamieson
Jude Lancaster
Katie Moreton
Flora Paulo
Liz Paulo
Rex Rayner
Gregor Singleton-White
Adam Slack
Lynne Wielogorska
Luciano
Hemel
Directed by Rhys Lawton and Rachel Taylor.