♫ Two of a Mind
Buy tickets
Adult: £17, Concessions: £15 + booking fee
or call 0118 384 2169
Telephone sales will cost an additional £1.50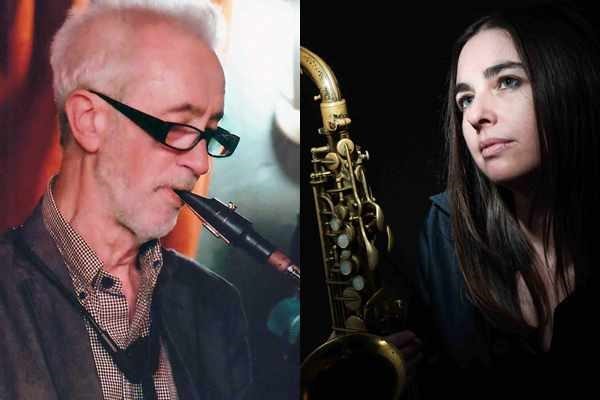 Friday 1 September at 7.30pm
Chris Biscoe baritone saxophone
Alison Neale alto sax
Jeremy Brown bass
Stu Butterfield drums
Colin Oxley guitar
Chris Biscoe and Alison Neale evoke the delights, wit and sublime inventive genius of the Gerry Mulligan/Paul Desmond collaboration which produced the classic albums Blues in Time and Two Of A Mind in the late fifties and early sixties. The band will feature tracks from their first album Then And Now (Trio tr597), released in March 2017, which includes arrangements from the original albums, as well as new compositions and arrangements by Chris and Alison.
Biscoe and Neale provide a perfect foil for each other; a civilized, unhurried musical conversation, beautifully supported by bassist Jeremy Brown, drummer Stu Butterfield and the subtle guitar of Colin Oxley.
As Dave Gelly commented in his 4-star review of The And Now for the Guardian, 'It all sounds bright, sharp and, well, modern.'
Chris Biscoe is self taught, starting on sax then alto clarinet. He graduated from Sussex University in 1968 with a degree in English Literature and worked as a computer programmer before committing himself full-time to music in 1973. After experience of modern, fusion and free jazz he started working with Mike Westbrook in 1979 and has played in many of Mike's projects including The Westbrook Blake, The Cortege, On Duke's Birthday, London Bridge and Chanson Irresponsable. He has also toured and recorded with George Russell, Andy Sheppard, Grand Union, Chris McGregor, Didier Levallet and worked with Hermeto Pascoal, Dewey Redman, Kenny Wheeler and the New York Composers Orchestra, co-led by Wayne Horvitz and Marty Erlich. In addition, Chris has recorded and broadcast prolifically as a leader of his own bands and was a founder member of the Way Out West musicians collective.
"An Alto sound like brushed velvet…" is how one writer described the playing of American born Alison Neale. Her beautifully crafted lines evoke the cool Pacific breeze of 'West Coast Jazz' and the spirit of Paul Desmond and Art Pepper, with whom she has a particular affinity. She has performed alongside leading international artists such as Adelaide Hall and Bud Shank and more recently tenorist Scott Hamilton, as well as featuring in both the John Dankworth 'Generations' Band and the 'Back to Basie' Orchestra. She frequently tours the UK with her Quartet, and has several albums to her name: Melody Express, Blue Concept and I Wished on the Moon.
Jeremy Brown graduated from the Royal Academy of Music in 1994 and went on to work in Peter King's quartet and pianist Julian Joseph's trio. He has since become much in demand in the UK and Europe backing soloists such as Charles Mcpherson, Deborah Brown and Curtis Stigers and working as the regular member of many groups including those of Stacey Kent and Anita Wardell, the BBC Big Band and the John Wilson Orchestra.
Drummer, Stu Butterfield has been a well established and highly regarded player on theUK scene since the late sixties. He is a member of 'The Great Wee Band' with Henry Lowther, Jim Mullen and Dave Green and a founder member of the 'Strayhorn Project', formed in 2003 to perform the less frequently heard compositions of Billy Strayhorn.
Born in Newcastle-Upon-Tyne, guitarist Colin Oxley, graduated from the Guildhall School of Music in 1990. He was voted Jazz Musician of The Year in 2001 by the Worshipful Company of Musicians. His remarkable CV includes work with American legends such as Scott Hamilton and Harry Allen, extensive touring with Stacey Kent, membership of Steve Fishwick's Quartet, the Dave Newton Quartet, Mark Crooks' Quintet, the Back to Basie Orchestra, the John Wilson Orchestra, Steve Kaldestad's Quartet, Simon Thorpe's Swing Band and his wife Eriko Ishihara's Quintet, with whom he has toured widely in Japan and produced several albums for Japanese record labels. Colin is currently a professor at the Guildhall School of Music where he teaches jazz guitar.
Jazz at Progress is presented in association with Jazz in Reading.