Next Youth Production
Due to the changing restrictions during the COVID19 pandemic, we have no upcoming Youth shows at the moment.
We are instead focussing on the digital youth workshops, with an aim to return to the theatre as soon as it's safe to do so.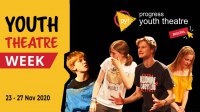 In November 2020 we ran a
Youth Theatre Week
online. Most of the content is still availble on
Progress TV
.