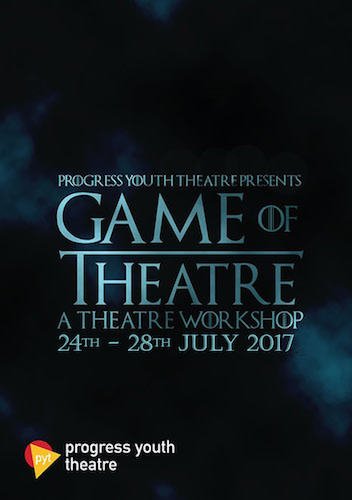 Progress Theatre presents
The Game of Theatre Workshop
Monday 24th - Friday 28th July 2017
10 am to 4 pm + 6pm performance on the Friday
Ages 8-14; £135 per child
Join Progress Theatre for a week of fantasy as we open our doors during the summer holiday to children from 8-14 to craft a performance the likes you've never seen before.
Offering experience of every aspect of our theatre, participants will craft beasts and heroes, culminating in a fantastical performance to fill our stage with their creation.
Our fully qualified Youth Leaders will show you:
Acting games and exercises
Improvisation
Costume-making
Prop-mastering
Set-design and building
Script-writing
Lighting and sound
... and a great week of fun-filled activities!
Sessions run from 10 am to 4 pm each day, with a whole week of theatre costing only £135, including two tickets to the final performance on Friday early evening (additional tickets £4 each on a first-come- first-served basis) along with a Q&A and party.
For more information and to book, please contact Liz Carroll via email at youthgroup@progresstheatre.co.uk.
**Please note running of workshop subject to numbers**