Audition: Happy Jack
by John Godber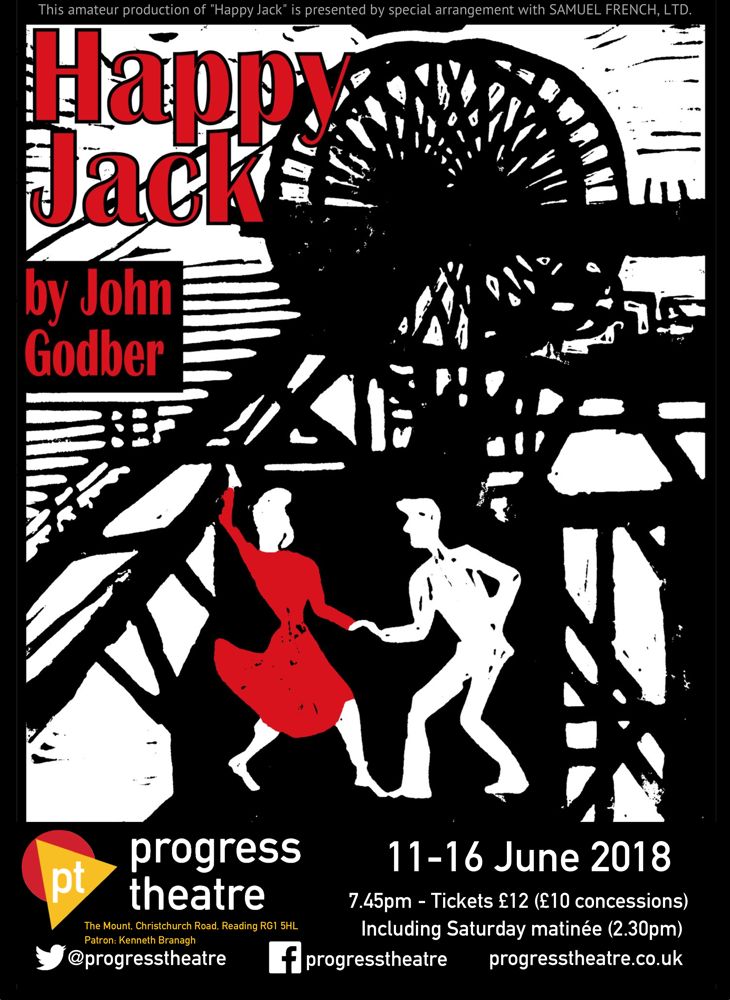 Auditions:
2.00 pm Sunday 4 March

7.30pm Thursday 8 March
at Palmer Park Church (Small Hall), 21 Palmer Park Ave, Reading RG6 1DN.
Rehearsal dates: Rehearsals beginning late March.
Production dates: 11th - 16th June 2018 7.45pm, including 16th June 2.30pm at Progress Theatre
The Play: Happy Jack is a funny and touching play about the lives of Jack and Liz, who address the audience about the biographical details of the husband and wife, and then slip into those characters, also playing other characters who have featured in their story. Set in a West Yorkshire mining village, the play is inspired by John Godber's own grandparents and follows the couple's 60 year marriage through good times and bad.
The play follows the story of this ordinary working-class family and retells snippets of their lives together, the love, sadness, anger, joy and conflict. Small, lovingly detailed extracts from the couple's lives are shown from their early courtship days, through to their retirement, but not in chronological order, so we constantly weave a path through their long life together. Balancing humour with some tougher realities, the play highlights the lives of working miners and the terrible legacies that many of them were left with long after leaving the pits.
Cast
Jack: A miner with a hot temper and a readiness to use his fists when injustice is perceived, Jack also has a softer side as seen in his relationships with Liz and his grandson.
Liz: Romantic and house proud, Liz gives as good as she gets. They argue a lot…
The actors could be any age but need to be a similar age and preferably over 40 years.
We will be attempting to have a Yorkshire accent as close as possible to John Godber's home of Upton, which is between Doncaster and Pontefract. Both actors sing occasionally throughout the play.
Preparation
Auditionees will not be expected to prepare any pieces for the auditions and will not be expected to have a prepared Yorkshire accent (but will be welcome to have a go!)
The play is available from Amazon as a Methuen Drama paperback.
The director, Helen Wernham, can be contacted on
0118 947 1993 or 07703 296823
or by email at happyjack@progresstheatre.co.uk