Brewster's Millions 
by Winchell Smith and Byron Ongley
Thursday 26 March – Saturday 4 April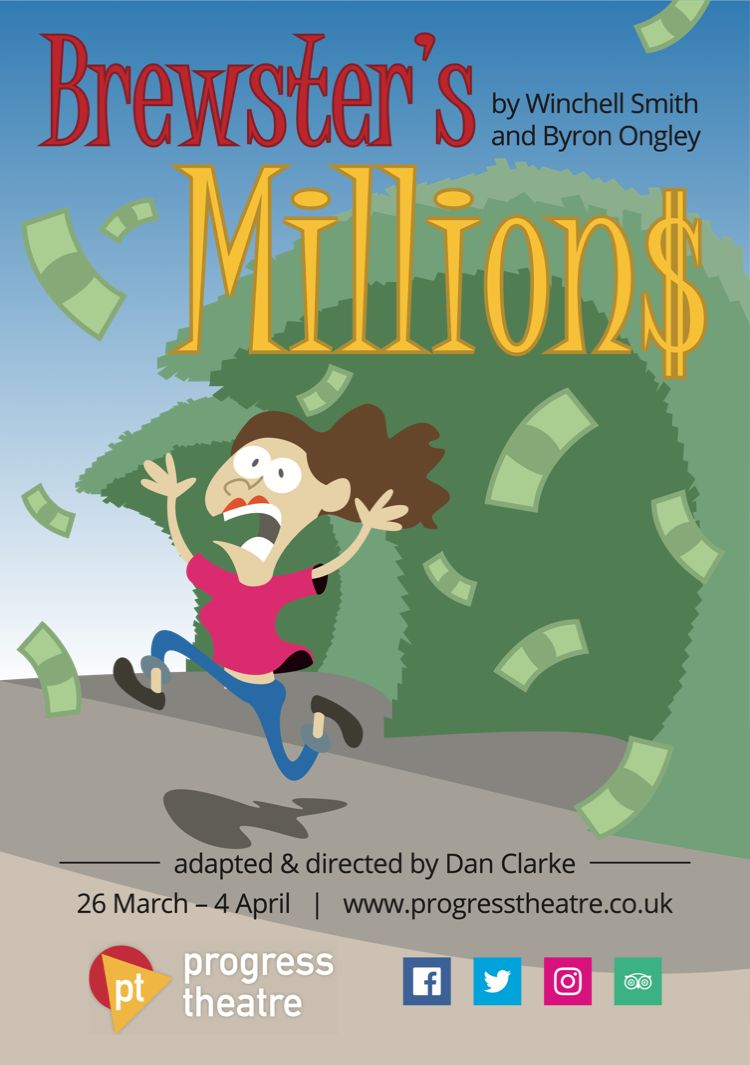 Monty Brewster has a problem: she's just inherited £700 million. There is, of course, a catch - she needs to spend all the £100 million she had already inherited before she can get the £700 million! And she only has a year to do it. Easy? Not for Monty. She can't have a penny left at the end of the year and she can't own a thing from it.
The challenge: Spend £100 million with nothing to show from it but the shirt on your back, and tell no one what you are doing. Oh, and you can't just give it away!
This fast-paced, frantic comedy classic is brought into the 21st century, retaining all the charm of the original, as Monty tries to spend it all in secret, whilst her friends all try to save her from herself.
Performances run for about 2h 15m, including a 20m interval.
Performances end at about 10.00pm.
Cast
The Angels of Debt:
Montana 'Monty' Brewster - Megan Turnell
Annabel Vanderpool - Emma Kellow
Norah Harrison - Helen Brodie
Francesca 'Frankie' Bragdon - Evie Stannard
Mackenzie 'Mack' Joseph - Katie Moreton
Subway Smith - Adam Lines
Mrs. De Mille - Chris Moran
Polly Gray - Floss Fearon
Bobby Gardner - Chris Roostan
Sir Andrew Gardner - Mark Taylor
Janice Armstrong - Stacey-Anne Manuel
Rawles - Jim McGuigan
Ms. Grant - Jo Cowan
Trixie Clayton - Caroline White
Bargee - Adam Lines
The Captain - Mark Taylor
Miss Boynton - Lauren Boys
Stewards - Jim McGuigan/Lauren Boys
Directed and adapted by Dan Clarke